Wellness & Relax
What could be nicer than spoiling your body after a cold day of skiing? Do something good to yourself and relax in our wellness area. In addition to the Finnish sauna, there's an aroma steam bath with a starry sky, an ice cave for refreshment, three adventure showers with a cold waterfall, a 38° Celsius Jacuzzi and a cosy relaxation room for relaxing hours.
Our wellness oasis is open exclusively in the winter season for our house guests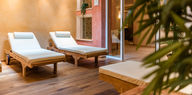 Relax your soul
Our relax room offers comfortable loungers for relaxing after the sauna
Hot moments
Warm up your body in the traditional finnish sauna with an intensive scent of pine or relax in our aroma steam bath with starry sky

Jump in
Relax in the 38°C warm whirlpool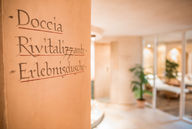 Shower adventures
Would you rather enjoy our revitalizing shower or dare to go under the cold waterfall?
Adress not found Please enter an address.